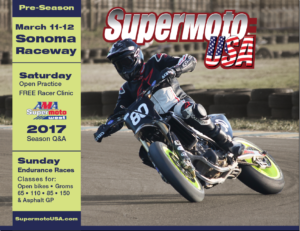 2017 Pre Season
Simraceway Performance Karting Center
Sonoma Raceway
Saturday Schedule
Practice: $50 for full day. $40 for half day.
– 8:00am – 2:00pm Practice shared w/karts, alternating sessions
– 12pm – 2:00pm Riders clinic with Buck Gerolomy and guest riders
– 2:00pm – 5:00pm Practice bikes only, alternate groups, minis, open, as needed
Sunday Schedule
– 8:00am – 9:00 registration and tech inspection
– 9:20am Riders Meeting
– 10:00am – 2:00pm Mini Team race
Mini Team Race classes
65cc – 80cc 2 stroke,
S/S125 4 Stroke (XR100, TTR125, ETC)
150cc 4t air-cooled (Groms!)
230cc 4 Stroke (ALSO 85 2 STROKE AND 150 LIQUID COOLED 4 stroke)
mini road racers grouped with appropriate eng. class listed above
– 2:30pm – 4:20pm Open Team race
Open class bikes: 250cc and up
Team races entries/rules
$75 per rider, max six riders per team or iron man solo riders!
Mandatory pits stops every ½ hour
Teams must refuel in hot pit. Each team must have own fire extinguisher present and manned.
March 12 – Mini Marathon Results
Mini_Marathon_Team_Race_03_12_2017
| Place | Team | Laps | Best Time | Best Lap |
| --- | --- | --- | --- | --- |
| CLASS: 125cc Team | | | | |
| 1 | Team Zooma | 205 | 1:02.276 | 90 |
| 2 | Team Braaapppp! | 203 | 1:02.222 | 32 |
| 3 | Tt Gnar | 183 | 1:05.631 | 170 |
| 4 | Dames Don't Care | 179 | 1:06.119 | 161 |
| 5 | Sbb One | 163 | 1:08.485 | 47 |
| 6 | El Tigre | 138 | 1:06.280 | 108 |
| 7 | Gr Moto | 131 | 1:02.346 | 115 |
| CLASS: 150cc Team | | | | |
| 1 | Team Sbb | 185 | 1:06.193 | 146 |
| 2 | Mad Ass | 177 | 1:06.092 | 173 |
| CLASS: 230cc Team | | | | |
| 1 | Subversive Racing | 225 | 0:57.064 | 219 |
| 2 | Team Slack | 225 | 0:55.625 | 170 |
| 3 | Team Stellfox | 214 | 0:56.071 | 111 |
| 4 | Team Xcelomer | 212 | 0:58.029 | 205 |
| 5 | Burnt Guys | 186 | 1:03.334 | 18 |